At MOB – Makers of Barcelona we had the exciting opportunity to form a media partnership with ACD*E (Art Directors Club of Europe) this month and to attend the festival with this year's theme, Prototyping brands for a new era, set by Steve Vranakis, Festival Curator and Chief Creative Officer for the Greek Government. The festival took place via online streaming, offering a whole series of inspiring talks, workshops, networking opportunities and round tables. "The festival of festivals online format is a place where the European creative community can come together, be inspired and exchange ideas and experiences."
MOB x ACD*E was a great opportunity to discover and talk about hot topics surrounding the future of the creative industry covering everything from Artificial Intelligence to publishing, highlighting the clear need to humanise brands, the importance of purpose and the power of the creative industry to bring about positive impact and change in the wider community.
Here we present some of the highlights of the festival and some things that we learnt about brands in the world today.
Awakening Purposeful Possibility – Collectively — Julia von Winterfeldt, SOULWORX
A story about the process from burnout to epiphany, a journey rooted in self discovery, Julia presented a reassuring story that many of us (in 2020 especially) can most certainly relate to. She stated the need for a global move from capitalism to being human, a paradigm shift in search of a more meaningful, more integral view of the world, where we involve the mind and the heart, and not just the intellect. We absolutely agree that brands need to prepare for a future focused on humanising things, and to endorse an outlook that is far more about culture, and on building communities than on just growth itself, as Alex Bec (It's Nice That) also touches on in his talk:
What is good for Brand X? Grow, improve, bigger, better. That is no longer enough. – Alex Bec
We took note of a list of challenging questions that Julia posed, in order to reset our thought processes about branding, going beyond the stereotypical definition of businesses. She encouraged us to ask three key questions in order to discover our purpose.
What do you do? 

Why do you do what you do? = purpose

Leaders: What am I here for?
Why do YOU do what you do?
Enabling Creativity to Thrive – bringing purpose to publishing — Alex Bec, It's Nice That
Alex Bec took us on the inspiring journey of It's Nice That, founded in 2007, who are creative publisher who believe "passionately that creative inspiration is for everyone," and absolutely share MOB's purpose of "enabling creativity thrive".

Whilst 'underneath cats are pavements' perhaps isn't the most useful piece of wisdom in the 'everything you'll ever need to know' note from his father, "be good but know what good is", is great food for thought on brand purpose. Alex emphasises that it's integral to the brand not just to grow and get bigger, but to respond to the needs of their audience by listening, and effectively, it's the readers that have taught them over the years of what their purpose is through the needs they have presented, and thus contribute perfectly to their philosophy of being good, ultimately leading to the company's well-documented success. The talk served as a clear reminder to all brands out there, regardless of size and level of success, to simply listen, as your audience defines your purpose.
Brands need to both be good, but also know what good is 
Stop and Think — David Ruiz, Connection from Spain, ADG-FAD
Stop and think, was an opportunity for David Ruiz's to share his personal (and professional) story about what he learnt after he shut up shop at his studio temporarily to go on a solo sailing trip. David walked us through some of his inspiring conclusions, whilst raising some important questions about how we understand our relationship with our work and personal lives. The talk had a very clear and concise message: We need to STOP and THINK in order to "live and do things properly." The no.1 enemy of creativity, according to David is conformity, which arises from COMFORT + ROUTINE. Whilst 2020 feels far from comfortable, this insight empowers us to think about how creative we can potentially be in testing times. This has certainly been the case for us at MOB – a healthy dose of creativity coupled with resilience is what has allowed us to find purpose in our brand, and ultimately to listen to our community.
Question everything, don't accept everything

As designers, we have the power to make change, influence, beyond our jobs.

Fear is just sensible advice to get ready.
Comfort + routine = Conformity = Conformity is the enemy of creativity. – David Ruiz
From the Generic to the Intersectional — Dr. Rebecca Swift, Getty Images
Getty Image's Global Head of Creative Insights, Dr Rebecca Swift, challenged us with a thought provoking talk on the power of imagery and the trends that shape our visual world. Rebecca's presentation of the research and work at Getty highlighted some of the sad truths about the world of stock image banks, and how Getty works to challenge issues around gender, disability, ethnicity and authenticity through research and project based work, including their collaboration with Dove and Girlgaze.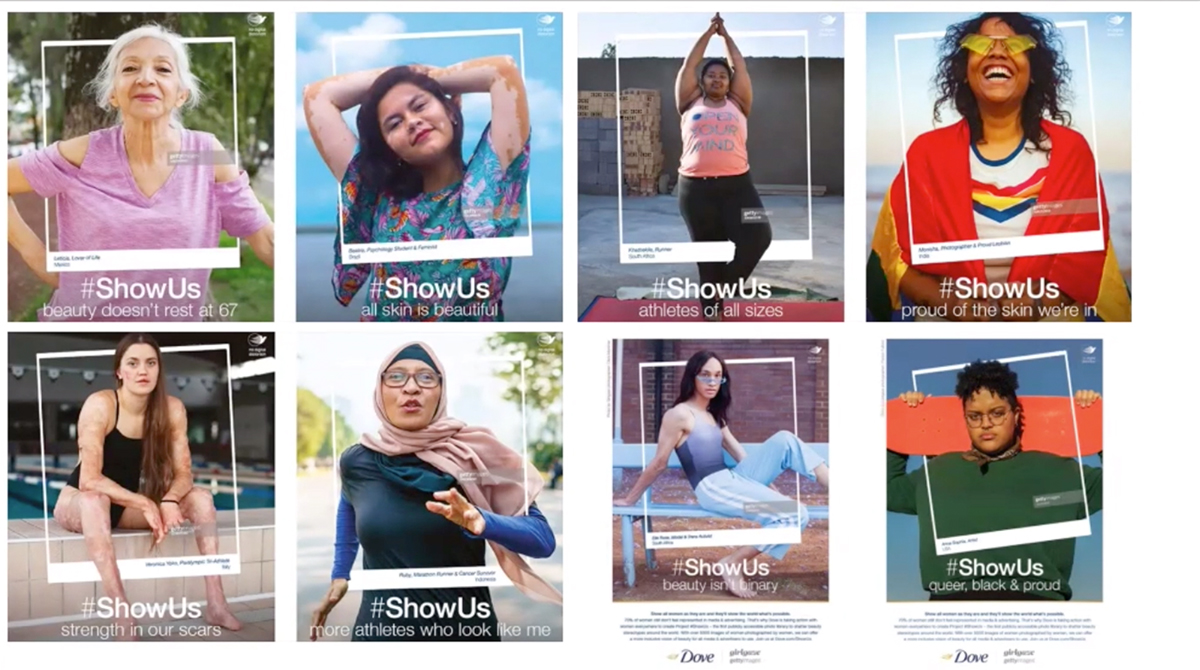 The #showus project highlighted the power of imagery in the media. #showus is "a ground-breaking library of 5000+ photographs devoted to shattering beauty stereotypes by showing female-identifying and non-binary individuals as they are, not as others believe they should be. The images created by this global community of 116 such photographers from 39 countries, will support these photographers of the future so that media and advertisers can continue to reflect the authentic experiences of women around the world." – Getty Images
Rebecca urges creatives to take these factors into account when selecting images, a vital part of content creation for any brand and provides us with a clear example of how we are empowered to make a difference for a better future.
Can AI be Creative? — Michael Katzlberger, Connection from Austria, Creativ Club Austria 
Can AI be creative? The short answer? According to Michael, yes, because you can train it.
Michael's talk confronted us with some unnerving reality checks following up with some answers to David Ruiz's question "Who's going to lead? Creativity or technology?" after he presented us with a short video where an artificially created person reads out a poem aloud. Infact, the poem, music and background imagery were all developed using Artificial Intelligence. Perhaps the greatest impact was of an AI generated TV anchor speaking in 20 different languages, highlighting the danger of manipulation, the uprising of fake news and our difficulty in being able to distinguish between what's real and what's generated. You only have to look at these images developed through machine learning of 'fake cats' and 'fake people' to understand the power of machine learning on large data sets.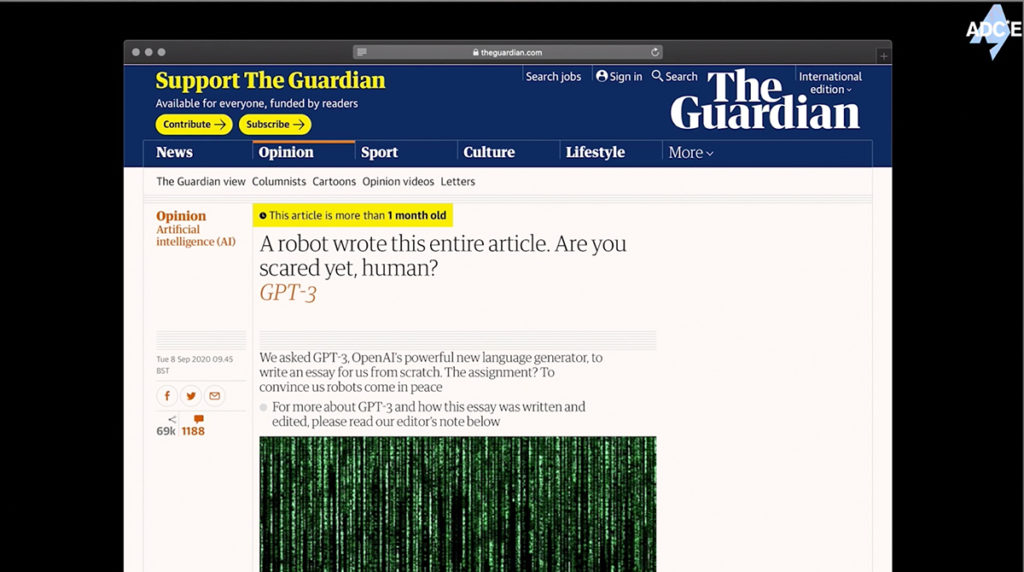 He further highlights this reality through his Spotify account: Noah 9000, which is compiled of  music made with AI. So is my job at risk? Michael suggests that you ask yourself the following questions.
Is it repetitive?

Could the results be a data set?

Is it worth automating?
If the answer is yes, you should be prepared for the possible impact of technology on your career, but also how it can make processes more efficient, saving time and money for companies around the world.
One point that really stuck in our minds about Julia's talk, it was this quote by activist and artist, Ai Weiwei:
I don't think necessarily that art can make the world a better place, but I do think that art can make a human a better human.
Perhaps by making better humans, we can also make the world a better place.
#ADCEfestival #ADCEfestival20 #FestivalOfFestivals #ADCE