Once upon a time a Scottish woman arrived, in an unexpected way, to Barcelona. Once upon a time – again – this same woman published her second book; she will be taking part in her second book launch in Scotland and her friends at the coworking space where she's based, decided to join the presentation of her new novel and screening to support her from a distance via the wonders of technology.
This is the story of Emma Christie as if it was a Tik Tok post. But let's explain a little bit more about this story. 
Emma The Traveller 
Emma Christie was born and raised in Cumnock, an Ayrshire coal mining town. After studying literature and medieval history at Aberdeen University, Emma spent five years working as a news reporter with The Press and Journal. She now lives in Barcelona  – as you already know – and works as a tour guide and lecturer in history, culture and politics. When in Scotland, she can often be found in Edinburgh's seaside community, Portobello, where her books are set.  
Emma the Writer
Her debut novel The Silent Daughter was shortlisted for the McIlvanney Prize for Scottish Crime Book of the Year 2021, shortlisted for the Scottish Crime Debut of the Year 2021 and long-listed for the Crime Writers Association John Creasey (New Blood) Dagger Award 2021. Her second novel Find her first will be published by Welbeck in January 2022. Both novels are standalones but based in one of Emma's favourite places: Portobello, Edinburgh's captivating seaside community.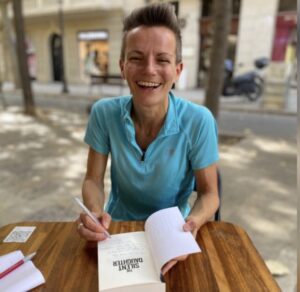 What's the novel
Find her first
about? 
A missing wife. A guilty husband. But it's not what you think…
Paramedic Andy Campbell harbours a secret about the whereabouts of his wife, Stef. When her work ID is found at the home of a suspected killer, detectives start knocking on his door –
and they're not the only ones asking questions.
As Andy battles to keep them off his trail, a series of bloody discoveries demand explanations
that even he can't give. The race for the truth is on – but who will find her first?
With twists and dead-ends galore, Find Her First is another clever and compelling story set against the backdrop of Portobello, Edinburgh.
Emma the activist for new fiction writers
Emma launched Diary of a Debut Novelist in September 2020, a community and digital event platform for the UK's most exciting debuts.  It's her way to meet more new writers, to hear their stories and also a way to continue working alongside the endlessly supportive and inspiring debut novelists who've been by her side during these early days of her writing career. She is also a founding member of the Caledonia Crime Collective.  
Emma the coworker
Emma has been at MOB – Makers of Barcelona for a while. Here she is well-known for always making people laugh, being a good friend and has proven that you can make your dreams come true. It's for that reason that her friends will have a little celebration watching the presentation of her book at MOB Bailén – champagne, popcorn and a lot of loving support. Isn't it wonderful to be far but so close at the same time? 
Where can I buy Emma's book in Barcelona?
There is a lovely small English book shop on the corner of Calle Rosellón and Calle Balmes called 'Come In'. You can get a copy of the book there and you can also attend the book launch online.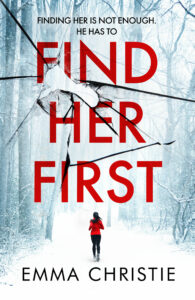 Have a good read 🙂