We had the pleasure of interviewing Laura Fernández, founder of allWomen, the first academy of tech courses created for women, by women. In a recent article, we talked about the beginnings of allWomen at MOB – Makers of Barcelona and gave an introduction to this story of success, with the recent expansion of the company to their own campus in Barcelona. Now it's time to give the word to the founder, and let her tell us her side of the story!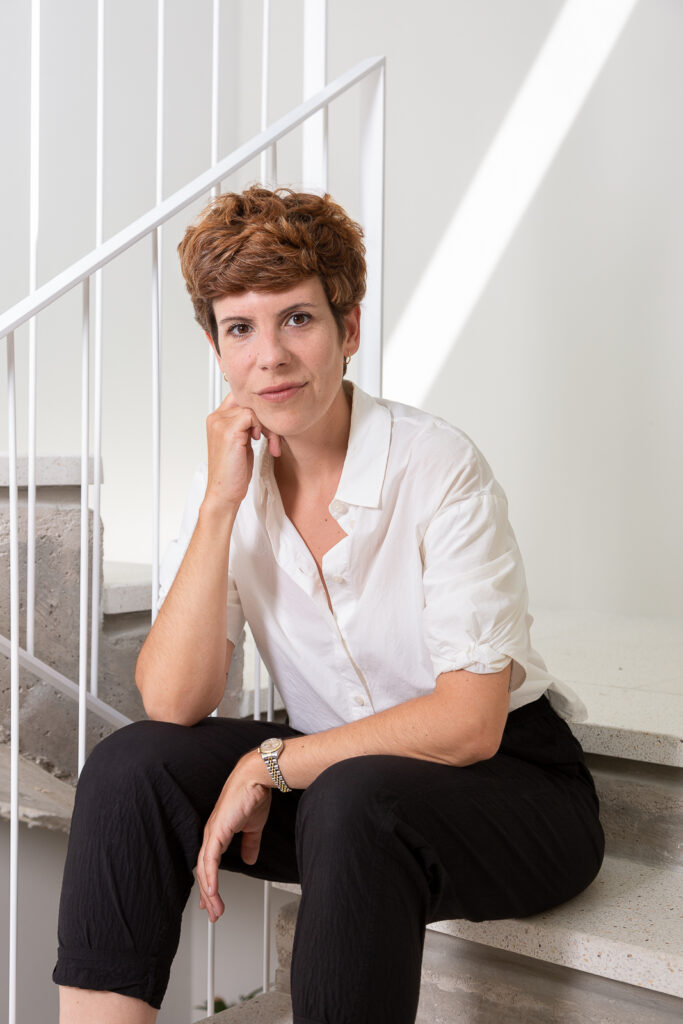 What inspired you to start AllWomen? What was your first vision of the project and what you wanted to achieve? Is it similar to what it is now?
People often ask me why I wanted to create a tech academy exclusively for women. And my motivation came from a lot more than just the desire to become an entrepreneur or solving a problem in the market. Rather, this project came from the need to make change; the kind that actually helps real women every day.
At allWomen, we aim to close the gender gap in tech, as well as empower women in any field or life aspect within our community. We do this by providing women with a safe space to learn and develop the hard and soft skills that women need to thrive in Data Science, Product Management, Web Development, UX/UI Design and UX Writing.
Back before I founded allWomen, I would look around me and not find spaces where women could exist without the stereotypes and social constructs that say that women don't fit into tech disciplines. So I decided to create it myself: a place where we all have the opportunity to learn without predetermined limitations of what women are capable of. allWomen is a mission-driven company that, since day one, has always made my job fulfilling.
My vision for allWomen has ebbed and flowed as we've grown, but one thread continues to string the journey together. And that is the vision of creating a more diverse technology sector, where women are given equal opportunities to rise above their unique challenges and make an impact on the future of tech. As long as we keep this vision at the heart of what we do, we can trust that – no matter where we go from here – it will be a success.
Back before I founded allWomen, I would look around me and not find spaces where women could exist without the stereotypes and social constructs that say that women don't fit into tech disciplines. So I decided to create it myself.
You started the project as part of the MOB team and from there you have gone through several stages: first at MOB Bailén, then with an office at MOB Caterina and after with your own offices! Can you tell us about the process?
Starting my relationship with MOB as a member of their team, I was given a crucial inlet into the startup world that would prove valuable to my journey with allWomen. It's there that I discovered this rich startup ecosystem, the power of tech and education, and the capacity we all have as individuals to make a change in the world.
This is something that I believe entrepreneurs have at their core: the passion, courage, and gumption to challenge the status quo, as well as the energy to put behind that action. In my case, this energy was due, in part, to the MOB community, a group of like-minded individuals and entrepreneurs that pushes each other creatively. This is truly what encouraged me to become an entrepreneur myself.
I felt very inspired and at home at MOB so, for me, it felt natural to start my entrepreneurial adventure there. Designing the allWomen project at MOB Bailen, then implementing it at Caterina felt like a natural progression as we grew, ourselves.
Last year, we started to feel it was time for allWomen to embark on a new journey, always keeping MOB at the heart and soul of the company. So we established our own campus – a space completely for women to foster blossoming careers in tech, and we couldn't be happier with our new space.
Located in Poblenou, our new campus is a welcoming space, where visitors are always greeted by the smiling faces of badass women. It's like my happy place. I feel so lucky to get to share it with women who deserve their own campus to learn, grow, and feel empowered.
Throughout all this time, what do you think MOB has contributed to AW and vice versa? How do you think you can add value to each other as you start this new chapter?
MOB gave me a crash course in owning the entrepreneurial spirit, thanks to the amazing Cecilia, who has always inspired, encouraged, and supported me to take the next step.
As a part of the MOB team, it was really impactful for me to be working on educational projects, as I discovered my passion for this sector while learning practical tips and tools. Ones that I still use today. In fact, it's actually those educational projects that really planted the seed of allWomen.
That was because these projects focused a lot on the tech sector – being an important focal point for MOB – and we were working on understanding social gaps in technology. Taking my learnings from these projects plus other shared experiences and discoveries from the tech sector, I put it all together with my passion for feminism – and allWomen was born!
allWomen and MOB are really similar when it comes to values, mission, and our key ingredients: empowering individuals, innovation & technology, education, collaboration, and community. So, with those values at the forefront of the work that we both do, our relationship will only continue to deepen. I truly believe that we'll always work together, helping to bolster one another in any way that we can because of these shared principles that bond us.
Sometimes that means sharing each other's messaging or directing our audiences to the other's events. It's really nice to still feel the love from them, and we're happy to reciprocate. This is really the added value that we can provide each other: building communities together that are centered around the same key values.
Do you have a favourite item with history or favourite object in your new offices?
While our campus is a space specifically for women in tech, we also wanted to include touches that make it into an oasis for all women, supporting female-created work across the board. That's why we made sure to feature illustrations by badass female artists like Petra Erikson, Kim Van Vuuren (our in-house designer!) and Flavita Banana – who we're obsessed with. We really think that this is what sparks the allWomen spirit: our unabashed love for women and all of the beautiful things they dare to create.
Also, we have to mention our amazing terrace, which we are so thrilled to have. It's the perfect outside space for taking a break while connecting and exchanging ideas with other cool ladies. We can't wait for everyone to experience it!