Being a big community, we know that it's quite impossible to meet everyone. With #MeetMobber we want to discover the talent – sometimes hidden behind a screen! – and the diversity that can be found at MOB.
Sitting down with coworkers and having these casual interviews is extremely interesting. We get to talk about life philosophy, restaurant preferences and music tastes, besides their professions and dreams! We are pleased to share the stories of our members and to continue creating connections.
In this article we introduce you to three MOB members: Amer Jamhour, Saurav Sen and Vanessa Ruiz. Three completely different stories, but with the same motivation to share a workspace that feels like home.
Motion Design with Amer Jamhour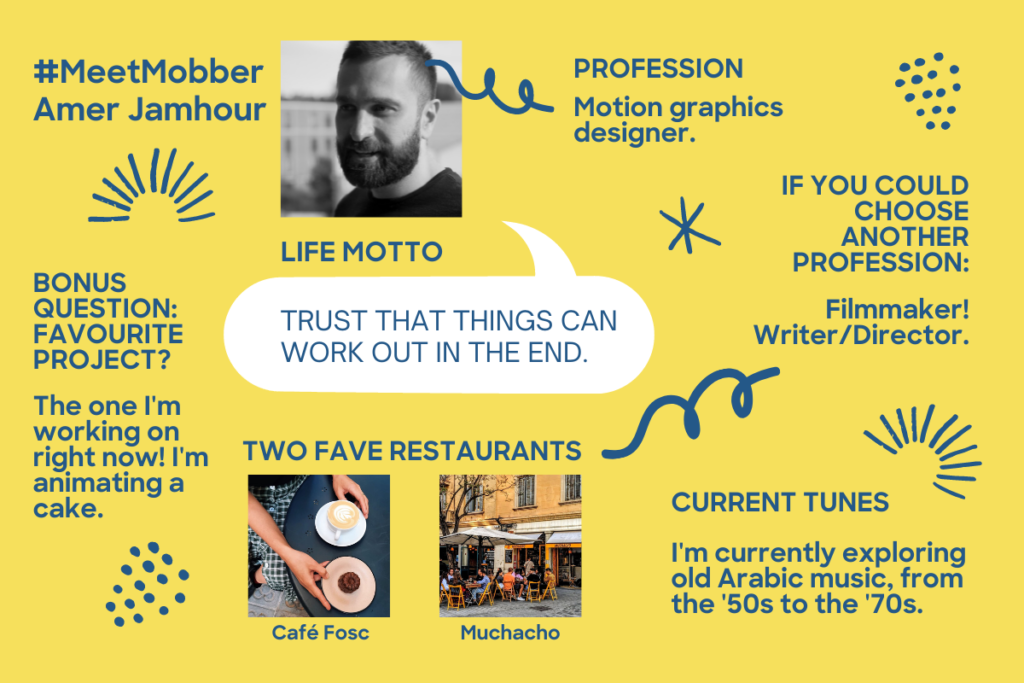 The first person interviewed was Amer Jamhour, an enthusiastic motion designer who's new in town. Amer claims he hasn't been out to experience Barcelona's rich gastronomy since he arrived during the pandemic, so he still has a lot to discover, being in a city that is known for its gastronomic scene. The time he doesn't spend eating out, he spends looking for new music and discovering artists: he's most recently fixated on alternative Arab musicians.
Amer started out in marketing and ended up developing a career in motion graphics. He always knew he wanted to do something on screen, but wasn't sure if it was animation or film. Life choices led him to where he is now, a successful motion graphics designer who enjoys what he does on a daily basis. In fact, his life motto is related to this: "Trust that things can work out in the end".
Investment magazines with Saurav Sen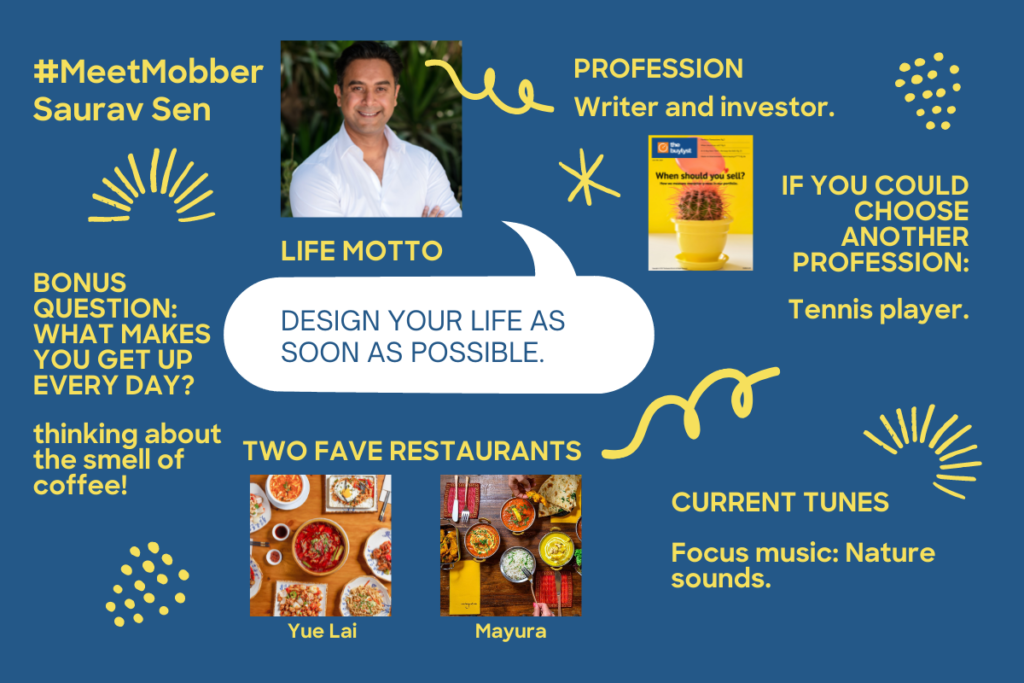 The next is Saurav Sen. You can find him at MOB Bailén sitting in the corner of the fixed desk area, deep in concentration—probably listening to a Focus Nature Sounds playlist. His restaurant picks are the kind you want to save immediately, especially if you like Asian food. He reveals where to eat the best Indian and Chinese food in Barcelona!
When you have a conversation with Saurav, you quickly discover that he is a very kind, calm and deep person, despite having worked for 15 years in the hectic world of Wall Street. In recent years, Saurav redesigned his life by settling in Barcelona, where he runs his own investment magazine. This allowed him to combine his two interests: writing and investing. His secret? "Design the life you want and then work on the rest. He adds: "It's never too late to redesign your life".
Change making with Vanessa Ruiz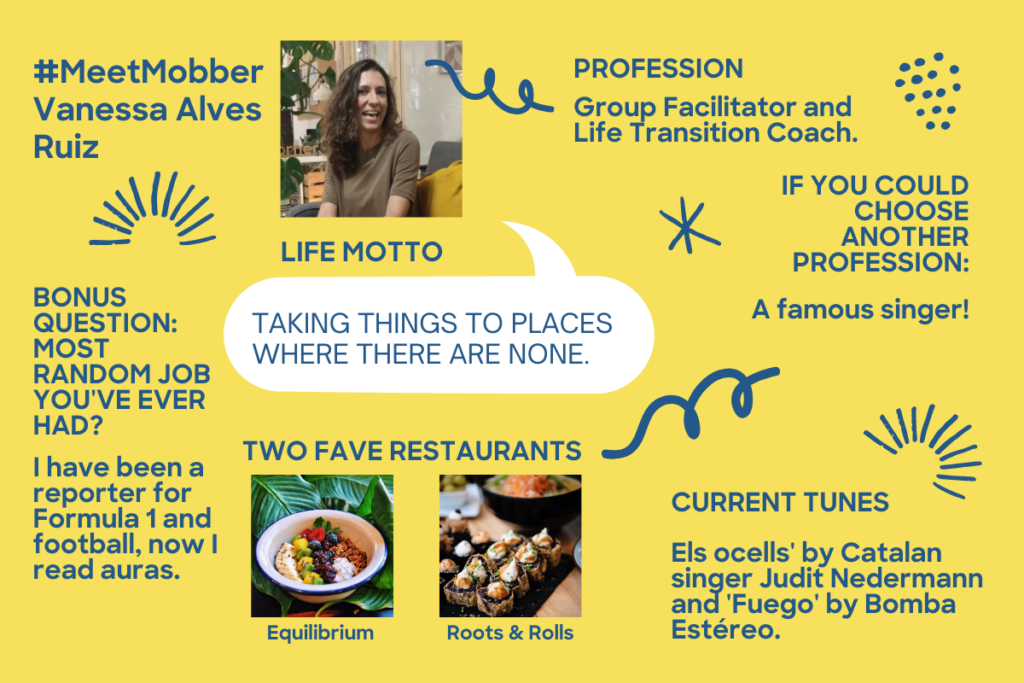 Last but not least, we meet Mobber Vanessa Alves Ruiz. From Formula 1 and football reporter to living in an eco-village, you can tell Vanessa is all about change: in fact, her own life transition inspired her to help others and she has been a group facilitator and life transition coach ever since.
When talking about restaurants, she recommended some vegan ones, saying that for her becoming vegan was another transition she went through, and she succeeded to the point that she now craves tofu!
Another fun fact about Vanessa is that she reads auras as part of her holistic services. "People come to my practice for one particular thing, and eventually they realise that they end up changing many others, such as lifestyle, nutrition, and so on!". What drives her is the fact that we can always bring something new to different places, situations or people. An example she gave was when she was a sports reporter in Brazil and was the only woman in a man's world: She added a new ingredient to the sauce. For Vanessa, life is about embracing change and challenging ourselves, she is now living the great challenge of being self-employed, but she seems very confident and thriving.