The right environment for success
As every founder knows, having an idea is not enough: it is the series of actions that follow that turns an idea into a real project and makes it a reality. Although it may seem simple, there are many aspects to consider when we start a project: finances, marketing, social media, branding, legal aspects, and among others, the physical space. Having a space to develop our ideas and getting the wheels of business in motion is sometimes the key to success, and finding the right one can be a real challenge! Laura Fernández, founder of allWomen, knows this only too well. 
Sometimes it's just a matter of chance that we find the right place: a space can give us the infrastructure we need to develop our business, or the contacts and network to drive it forward. Maybe just the motivation to keep going when we have a "what have I got myself into?" kind of moment! Or perhaps, the right environment gives us the chance to meet people who inspire us and from whom we can learn. And that, we believe, was the case with allWomen. As the name suggests, the technology academy is exclusively designed for women. The project was born a few years ago, at MOB – Makers of Barcelona–where else?! 
After years of seeing this female founder's startup grow and grow within the MOB ecosystem, we are now celebrating the start of her next chapter: a brand new campus in Barcelona's innovative urban district: Poblenou.
A space can give us the infrastructure we need to develop our business, or the contacts and network to drive it forward.
The first steps: allWomen at MOB – Makers of Barcelona 
Laura first joined MOB as a staff member. Being immersed in an ecosystem of entrepreneurship and innovation, she was inspired to create her own project, which we can say with certainty, has turned into a successful business! The allWomen academy was created alongside Cecilia Tham, founder of MOB. Both women share a passion for technology and aim to make a difference: in this case, through the creation of a place where women would be the protagonists, addressing the glaring gender gap in the technology sector.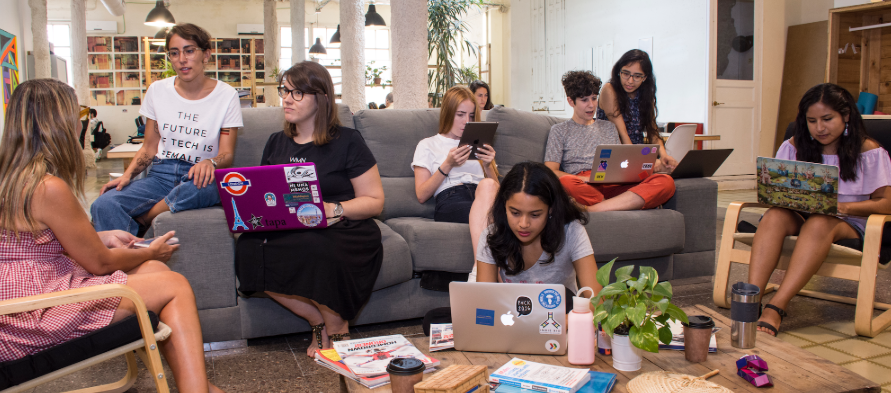 MOB Bailén was the first to witness the early beginnings of the project and how it began to take shape. In 2019, when the most recent of MOB's hubs opened doors in the Born neighbourhood of Barcelona, allWomen continued to develop their courses for women, by women –that include everything from Data Science to Product Management, UX/UI to Data Analysis– with headquarters in the modern and fresh space of MOB Caterina. We remember, with a sense of longing, the times where the space was full of female students preparing to learn and thrive in the tech sector! It is very inspiring to be close to them, and we are happy that our two networks continue to create such great synergy.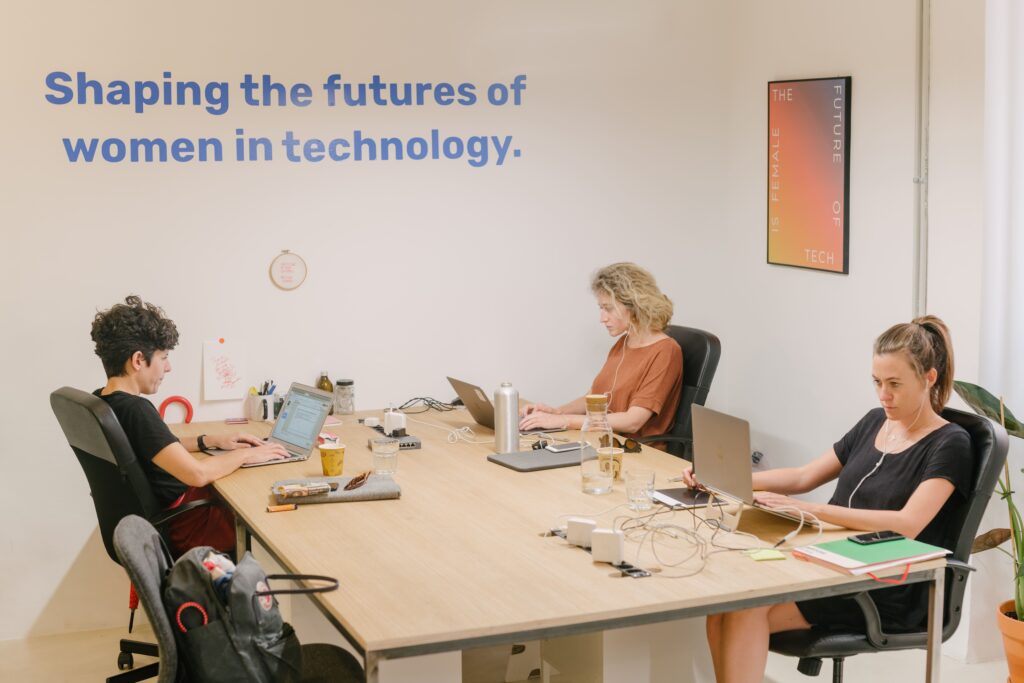 New campus: a successful architecture project and new beginnings!
The journey together didn't finish there. When the need for further growth was clear and it was time to move forward, MOB's CEO and Freelance Architect, Albert Tisaire Ventura, was in charge of renovating the building that is now the new allWomen headquarters. As an insider of the construction industry and experienced in the niche of work spaces, Albert turned Laura's vision of creating a flexible space into life. 
The needs of the space were hybrid. The aim was that different things could happen simultaneously: AW courses, meetings, events, a place to relax and internal team operations. With Albert's experience in designing coworking spaces, and a client like Laura, who comes with an innovative and creative mindset, the goal was quickly achieved. They were aware that these were the needs of today, and that the space had to be able to adapt quickly to the needs of the future. Both the materials and finishes chosen were noble: pre-existing concrete, oak wood and iron were used for the treatments, creating an industrial but modern look and feel. It was a successful project in terms of time, cost and aesthetics, a clear example of how networks go beyond the physical space at MOB and allWomen.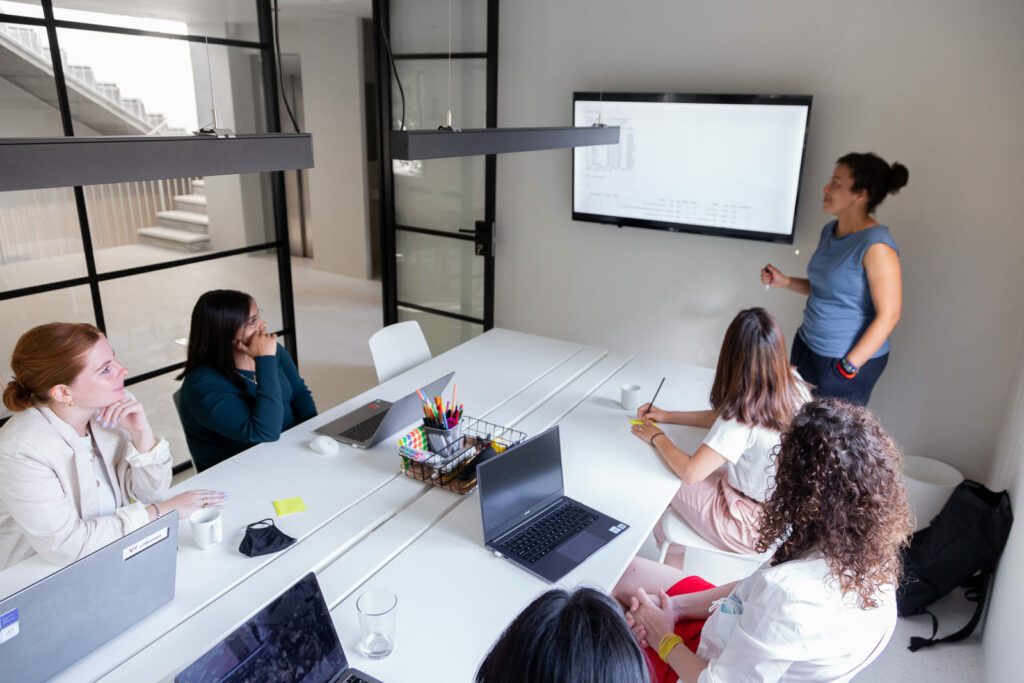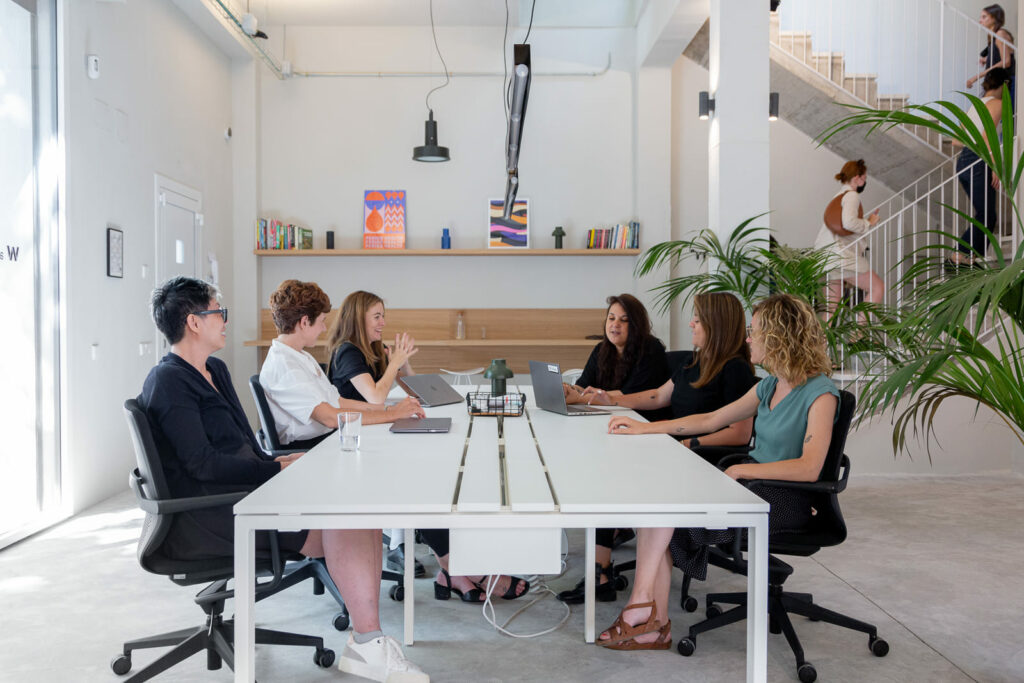 Once the new campus was completed, the allWomen team added their own special touch, which you'll discover in the interview with Laura Fernandez, coming soon! Laura will tell us how her company started, the vision, the journey with MOB and how these two companies complement each other by sharing the same values: innovation, collaboration, and community.
Stay tuned for more about allWomen and their success story!