"Should I go for a Flexible or Fixed coworking space membership?" This is a big dilemma for many people when it comes to choosing the type of membership that suits them best.
Depending on the profession, the number of hours a user wants to use the coworking space or the needs in terms of furniture, at MOB – Makers of Barcelona we offer the most flexible memberships, creating a diverse and synergic ecosystem and helping people to thrive personally and professionally.
The main goal is to be able to adapt to companies, freelancers and entrepreneurs who have different needs when it comes to using the coworking space.
If you are thinking that you need a dedicated desk, in this article we tell you in depth what it is and what its advantages are.
Flexible desk or Fixed desk?
Close your eyes for a minute and visualise your ideal way of working: do you prefer to have the possibility to have your own desk, with your screens, personal items, maybe a decorative plant or a vision board; or do you prefer to arrive at the coworking space, choose a random spot, bring your laptop and do your thing?
Herein lies the main difference between these two memberships, while the flexible desk membership allows you to use the space during regular working hours, bring your stuff every day and choose where to sit, with the fixed desk you can have your own space to leave your stuff with 24/7 access.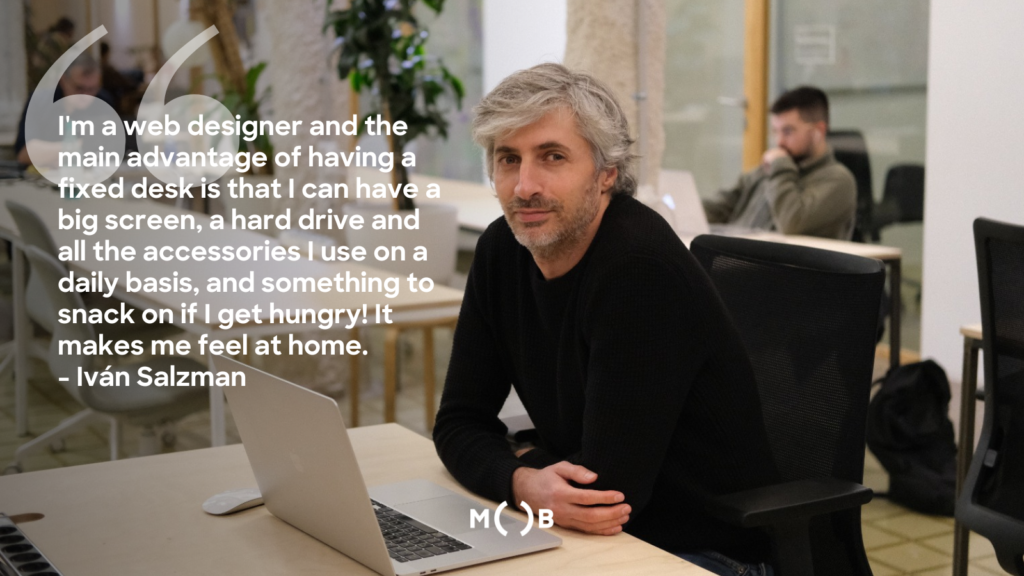 Ivan Salzman – Founder & Web Designer at vueloIV.com and MOB member.
What are the main advantages of having a fixed desk?
Although the fixed desk may relate more to the traditional office where everyone has their own workstation, the advantage of having this membership in a coworking space is that at the same time as you have a place to leave your stuff, you are part of an international ecosystem of entrepreneurs and creatives from various fields. Networking and collaboration flow, in contrast to working in an office-only building.
Another advantage is that you can personalise your space, bring your own chair if you want maximum comfort and have everything at your fingertips without having to move everything around on a daily basis. Your personal mug, your extra screen, a picture of your favourite rockstar… you name it.
If you are someone whose profession requires a big screen (or more than one) or you need to work out of hours or on weekends, this membership is ideal as you can access it 24/7 with total freedom, as if it is your own home.
Last but not least, a fixed desk at MOB doesn't really require a big commitment, as we work on the most flexible, non-long-term contracts. As long as you give notice before the end of the current month, you can leave your desk free for another coworker.
To sum up, a MOB Fixed desk membership includes:
Your dedicated desk, 24/7
Access to two coworking spaces in Barcelona
Unlimited phone booth access
Mail pickup
8 hours meeting room access
A kickass community
Ready to become a fixed member of  Maker of Barcelona? Learn more here
If you prefer a more flexible option check the weekly pass.