This week we're excited to introduce to you our very own Communications Coordinator & Design talent: Hayley Cantor. She's the girl behind the emails, colourful poster designs and to be honest… so much more. With her witty humour and highly contagious happy vibes – we're so happy to have her on board of the MOB spaceship. Read on to find out about her interesting, versatile past, and how she got from (Hythe, countryside UK) to Barcelona. 💛
''I initially came here to study to be an English teacher. I decided I had to stay until I'd done all the things I wanted to do, which I thought wouldn't take that long, but every year there was something else: and here I am, 11 years later. I realised I was more in love with Barcelona than anything else: I just couldn't seem to leave. 
I come from a quaint village where nothing happens. Hythe. Supposedly, we invented the hovercraft, but apparently that's not even 100% true. It's opposite of Southampton, which is also not really famous for much, except for that the Titanic sailed from there – so also not a very successful story. 
I studied psychology at a campus university just outside of Warwick and then I moved to Oxford to start working as a mental health recovery worker in a half-way house: something I've always wanted to do because I was really interested in how people's minds work, and what happens when things go wrong. I learnt to understand that everybody is human, and everybody has a reason to do what they do. 
This work taught me you've got to be as compassionate as you can with everybody you meet, because everybody has their own story. It really doesn't matter how 'crazy' people are, or how weird people's behaviour seems to be – there's always something that can explain it – even in the most serious mental health cases. 
Then I moved to work in homeless services, that was super interesting as well. At that time, Oxford had the second highest population of homeless people in the United Kingdom. People have a lot of ideas of what homeless people are, but until you start working with them you don't really understand the motivation behind being homeless, how homeless people survive, whether they're happy with their situation or they're not. Whilst everybody was looking up at Oxford's iconical spires, I was looking down on the floor for homeless people. Then I decided I needed a break because I was super young, and that's where Barcelona came in.
So how did I get into design and communications? I basically started as a self-taught designer, which I didn't realise for a long time. I was always making stuff, drawing, collaging etc. I also loved writing. To get rid of my complex of not being a 'real designer', I went and studied to get my diploma. 
On the side, I'm also a VJ (Video Jockey). How I got there is kind of a funny story: at one point, I had a crazy job where I travelled around Spain, teaching British culture to kids – I would teach people what Big Ben is, crack loads of really ridiculous jokes… At first it was great fun, I explored a lot of places. After three years I'd been basically everywhere and I started to get bored. 
I would project onto the pillows, cut out the shape of the pillow and then it would look like the pillow was alive…
The hotels I stayed in were really dull: all the walls were white, all the bed linen was white. There was nothing, maybe the occasional ugly painting. I wanted to make them more exciting: so I projected onto them with my little projector (I had it with me for the presentations on British culture). I taught myself how to do 3D mapping: I would project onto the pillows, cut out the shape of the pillow and then it would look like the pillow was alive. 
If the paintings were boring I'd project onto them and make my own paintings, if the bed-covers were lifeless I'd project onto them making my own lively bed covers. 
I was really lonely sometimes, and like a lot of lonely people: I started going a bit crazy with social media, uploading tons of my projection work. People came to think I was playing in clubs, as my photos didn't show a lot of context. That's how I found out about VJ-ing. I didn't know what I was doing – I didn't know it had a name. But people started approaching me: I got my first gigs in bars, and learned to do it to music. I hopped from bars, into theatres, and eventually ended up as a resident VJ in Apolo.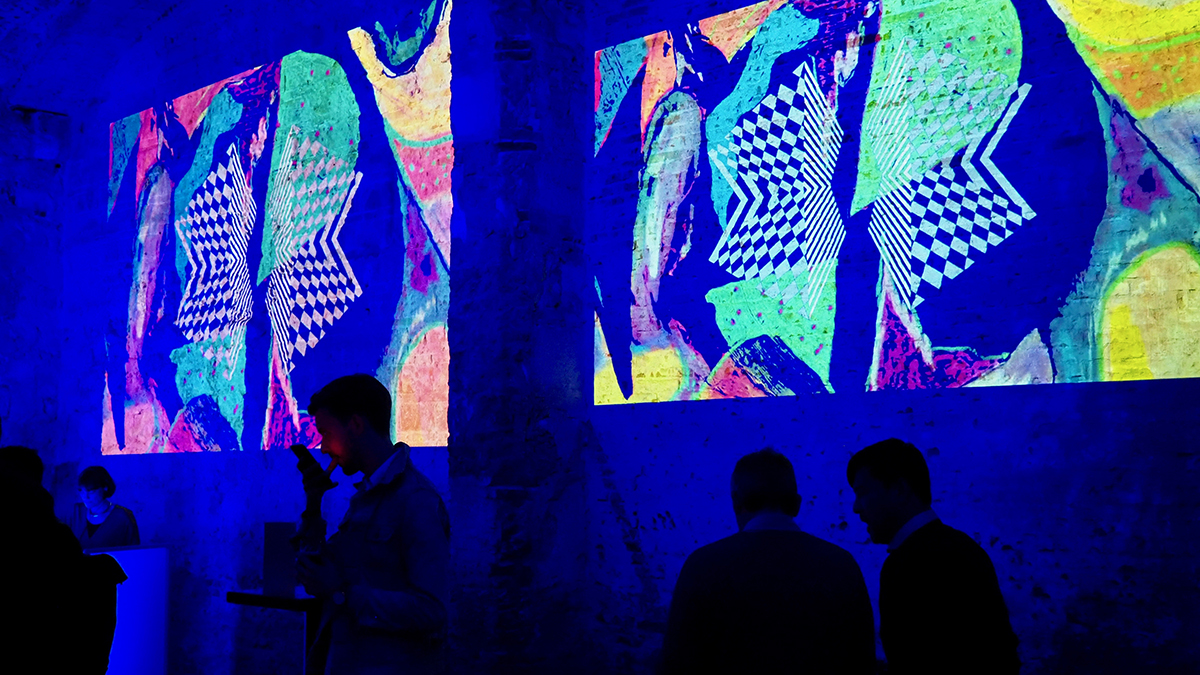 > Check out more of Hayley's work here. 
Boring stuff has always been my greatest inspiration. Who says techno has to be black & white? I started to make stuff colourful, that wasn't supposed to be colourful. You can see it in my designs as well, I like to break the rules. 
It's also one of the reasons I ended up on MOB's doorstep: I remember MOB opening and kind of side-eyeing what they did: I was like, dude, these guys are all doing their own shit, being unique and super creative.. It was revolutionary to see people be like: I'm not going to sit in an office from 9 to 5, and if I want to make robots: I will. I remember thinking… who are these people?
I started my job at MOB on the first day of quarantine, which was an experience. Everything happens for a reason: last year, when I was looking for a new job, I already had MOB in mind. One day, my friend walked past the front of MOB Pau and sent me a photo, saying: 'I think you should work here, this really fits your vibe', they posted a new job opening a few weeks later, and I couldn't not apply. Like attracts like, after all.''