Megan Kenna (co-founder of Mockmate) lived in Brussels, Thailand, East Africa and London; she's originally from Philadelphia, United States. Nastya Solovyeva (intern at Mockmate) worked with KFC in Russia. They teamed up to do awesome work with Mockmate, a startup that helps job seekers practice job interviews, with automated immediate feedback. Our favourite thing about them… their Instagram MEME collection!
What is Mockmate about?
Megan: Mockmate is an online, intelligent job interview simulator that helps job seekers learn how to perform best in job interviews. We also work with companies to screen candidates.

Traditionally, when you apply for a job, you send your CV and your cover letter. There's an average of 250 applicants for each open position. Maybe a keyword scanner will pull out the best profiles, but it's easy to miss great candidates. Of those 250 applications, about 10 people get called for a phone interview. And then two to five people get an interview in-person. So 240 people don't usually get a chance. 
Mockmate tackles this problem with technology. When we work with companies, we can automatically interview everyone that applies to help choose the right people based on the content of their answers.
We're also working with some universities to offer Mockmate to their students, including two in Barcelona (ESADE, IESE) and LSM in Belgium. 
How did Mockmate start?
Megan: My co-founder started Mockmate in March last year during the lockdown because he wanted to practice job interviewing. He was finishing his MBA at IESE. He was interviewing with really intense companies where you're very lucky if you get an interview (Amazon, Google). And he practiced a lot. People got tired of practicing with him, so he built a tool so he could interview himself. 
Then COVID happened and they froze hiring. Since he had created the tool, which was working well for him, he shared it with other people to see what would happen. It became popular, and we decided to turn the tool into a business, Mockmate. I joined as co-founder in July 2020. And Nastya joined us as a digital marketing intern one month ago. 
How is Mockmate using Artificial Intelligence?
Megan: AI in HR is not scary or complicated. For Mockmate, our AI is like a transcript or a record of interviews. Traditional interviewing decisions can be made based on gut instinct. There are tons of biases at play. Maybe you don't like my accent, or my shoes, so you don't want to hire me. And there's no real way to know that impacted the decision. 
Of course there have been some bad stories, some bad press making AI in HR seem unfair. But for us, it's really very simple. We match the candidate and the job description, based on the content of the answers to questions.
As an example, in the job description of a sales position, if the candidate must have experience selling software. So in an interview, when asked about sales experience, the candidate should talk about relevant experiences. Responding to questions like in a normal job interview.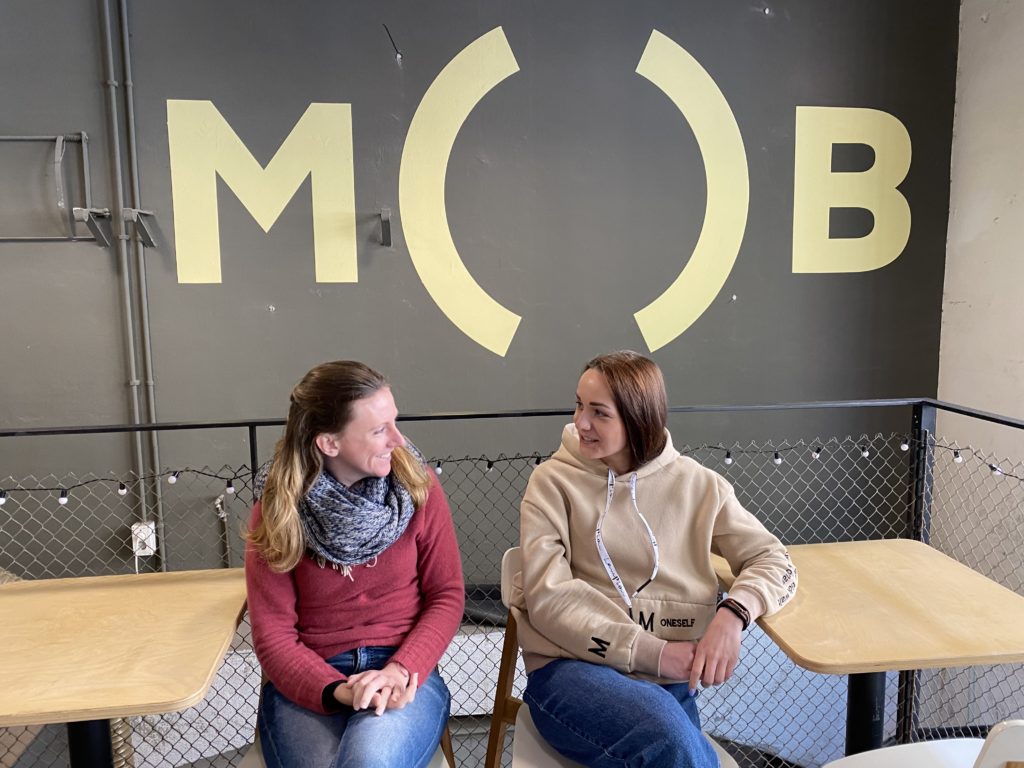 What would be the current goals or challenges?
Megan: We're building an ethical company with the right intentions. When we're building all of these tools and features, we build them to be based on merit, so it doesn't matter if you're a woman, or where you come from, etc. Everyone has the same opportunities and the judgement is only on the content. 
If you have amazing relevant experience, and you didn't go to Harvard, you should still be treated equally. That's how we approach our product.
We're building an ethical company with the right intentions. When we're building all of these tools and features, we build them to be based on merit …everyone has the same opportunities and the judgement is only on the content.
Onto the next topic, how do you work as a team?
Megan: We actually have a bigger team, but it's just Nastya and I here at MOB, which really facilitates learning and knowledge sharing. 
Nastya: In Moscow, for example, where I used to work before, each day I'd go into the company and work face-to-face, just like everyone else did. In contrast, it feels very challenging for me to imagine working only remotely, because it's difficult to communicate the small details, share an opinion or ask something spontaneous.
Megan: We're in an accelerator program, Techstars, so we deal with people across Europe, and we're the only team in Barcelona. So with COVID, we are lucky to be able to come to MOB, to leave the house and go to a coworking space. It feels great to be able to do that after such a long and strict confinement. 
You said that you were working in marketing together?
Megan: In a startup you have to do whatever is necessary. As a co-founder, basically I have to do everything that isn't coding. Legal, investor relations, marketing and sales, etc. Marketing is important to us which is why Nastya is here to help us.
When we hired Nastya we interviewed a lot of people through Mockmate, and she interviewed with our product and she scored very well. 
Nastya: I'll be finishing my masters in Digital Marketing Studies at ESERP in June. I chose it because I believe the internet is our future. I think each company should have as many people as possible working in digital marketing, to reach out to more potential customers, since everyone is spending so much time on their phones or with any type of screen really.
So for me, this is the first experience working in digital marketing. In Moscow. I was also in marketing but it was mostly offline marketing. So that's why I'm doing my internship here. 
Megan: Her experience is really interesting. She worked with KFC in Russia. 
Nastya: Yeah, a cool but really different experience, absolutely different. And, to tell you the truth, I was afraid of struggling to get a job in another industry because restaurants are a very specific field in hospitality, very different from a tech SaaS startup. So thanks Meg!
"In a startup you have to do whatever is necessary. As a co-founder, basically I have to do everything that isn't coding." 
So when I finish my internship here at MOB, should I go into Mockmate to train myself there? 
Meg: Yes! It's always useful to practice interviewing! Our ideal user is most likely people under 30, first-time job or internship seekers. Or people who are a little bit out of practice when it comes to interviewing. Answering questions like "what are your weaknesses" can always be hard.
How has the increase of remote positions impacted the process?
Remote work has changed recruitment. As more companies see remote being a long-term decision, it opens up the hiring pool and now people can be recruited from anywhere. So it's more challenging to sort through applicants – remote work expands the possibilities. 
For example, Hopin which has a few people here in Barcelona, doesn't really have an office, they can recruit people from anywhere. That means you can't automatically ignore an application from Madrid, Menorca, or Morocco. 
You actually have to read the applications more closely to find the right people. It can take more time. 
Remote work is an opportunity for companies to get the best profiles based anywhere, and an opportunity for job seekers to find well-paid work no matter where they are. It's also an opportunity for Mockmate to help. 
I personally love the remote world. Before Mockmate, I worked remote as an independent consultant for seven years. I lived in Brussels, Thailand, East Africa and London. Wonderful experiences. And the whole time I was working with startup clients in tech capitals, delivering real value even if I wasn't sitting next to my clients. 
Is there anything else you may want to add?
We've been members of MOB for about one month. We'd love to meet more people and share knowledge. The Techstars motto, I love, is "give first". 
If we can help anyone – either with interviewing people for jobs, practice interviewing, or anything else. Don't hesitate to reach out and ask! 
Interview & photos by Indra Roura