When looking for a coworking space, location is an essential thing to consider and Makers of Barcelona coworking  spaces offers unique locations surrounded by historic buildings in the heart of Barcelona.
You have landed in Barcelona, a beautiful city that gives you a lot of opportunities to grow in your work career and have a wonderful spare time doing lots of cultural activities. This is our second volume of the most interesting attractions to visit near MOB Bailén and Caterina. 
Even though the most visited attractions in Barcelona are La Sagrada Familia and Barça Stadium & the Museum there are a lot of amazing places to discover in our city. Here are 5 of our favorite ones (and an extra surprise at the end) as we would like to guide you a little further away from the most visited places. Are you ready to start the tour? 
1.The temple of August ( 10min walk from MOB Caterina) 
You can travel to Ancient Rome by visiting the Temple of Augustus located 10 minutes from MOB Caterina, in the Gothic Quarter and the entrance is free! In a small street, and inside an old building, you'll discover the columns of the Temple of Augustus. It was a Roman temple built during the Imperial period in the colony of Barcino (Roman name of Barcelona) and it was dedicated to the emperor Augustus Caesar. 
2. Frederic Marès Museum (4 min walk form MOB Caterina) 
Frederic Marés ( 1893-1991) was a sculptor and collector who lived and worked during the Catalan modernism era and he dedicated all his life to growing his private and unique art collection. The museum has an extensive collection of Hispanic sculptures from ancient times until the XIX century, it includes brush teeth, glasses from the opera house, retrieved after death, a gargoyle etc… He donated his household Museum to Diputació de Barcelona but he made a deal with them that allowed him to live on the first floor of the building. Every day he supervises his museum and likes to talk to the visitors.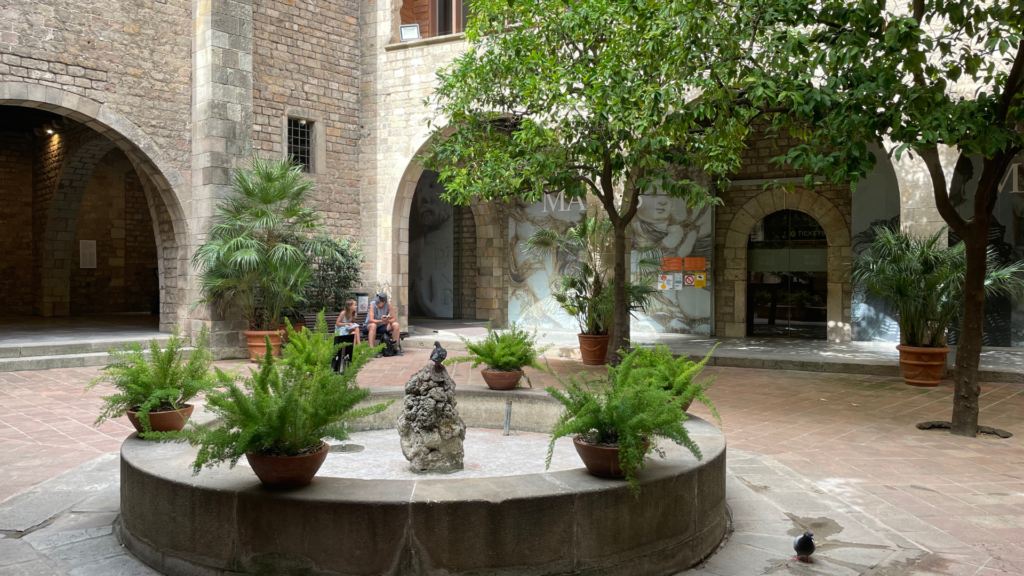 3. Palau Güell (15min from MOB Caterina) 
On the other side of Las Ramblas, Antoni Gaudí built Palau Güell, an architectural jewel of modernism. That was the household of the patron Eusebi Güell and his family. It was also a meeting point of important events during that period.  The opening party was during the 1888 Universal Exposition, they invited celebrities such as the President of the United States, Grover Cleveland, and Princess Maria Cristina de Hausburgo-Lorena. The palace became a cultural private center full of music and art because the family Güell- López loved music and had weekly cultural meetings with their friends and featured artists of that time. For the small anecdote, it was the first building where Antoni Gaudi used the "trencadís" –  broken tile mosaic technique used to decorate and cover surfaces.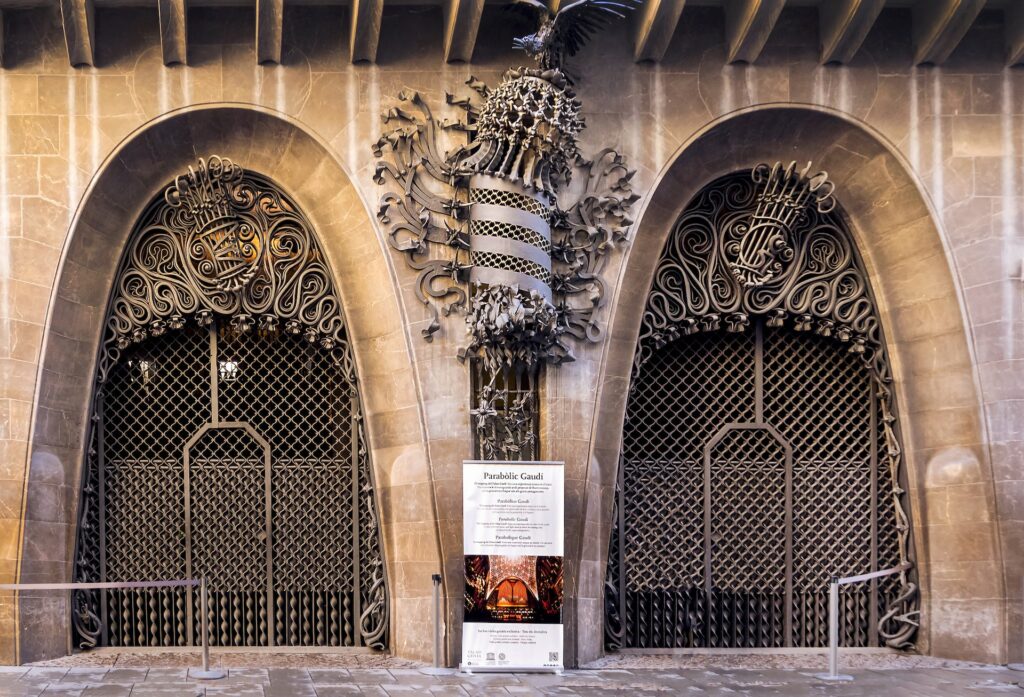 4 . Fundación Foto Colectania (10min from MOB Bailèn) 
Fundación Foto Colectania is a photography gallery with wonderfully curated exhibitions. A small place that will surprise you for the quality of the exhibitions but also the photographic archive of the photographer Paco Gómez ( Pamplona,1918 ) and the library with more than 3000 photography volumes from Portugal and Spain. Foto Colectania has a full space to do activities, especially for young photographers and there are interesting workshops and guided visits. If you are a lover of photobooks you'll be delighted with their selection at the bookshop
5 . Biblioteca Arús (5min from MOB Bailèn) 
The Biblioteca Arús is located in Passeig de Sant Joan and was created and opened in 1895 by the journalist and playwright, Rosendo Arús i Arderiu (Barcelona,1844 ). Nowadays it has 80.000 volumes and it's one of a kind. All the books were donated and what makes special this library is that it was the first public one in Barcelona. Free entrance where women, children, and anyone could come and learn to write and read.  You can book a tour to discover all its secrets. We highly recommend it. 
EXTRA VISIT!
Les Heures Palace
Despite not being close to the MOB coworking spaces (distance by metro is about 37 minutes ) here you can spend time surrounded by nature. Gardens of Les Heures Palace, or Casa Gallart, is located in the district Horta- Guinardó and it is a beautiful place to relax and discover a not-so-well-known place. The palace is a French Chateau style that was built at the end of the XIX century and has an air defense refuge that was built during the Spanish Civil War, The former President of the la Generalitat de Catalunya, Lluís Companys took refuge in this building.
We hope you will have an amazing time visiting all these places in your spare time and if you have any questions about MOB, please feel free to ask our Space Managers. 
 Article was written by Meritxell Vallvé