When looking for a coworking space, location is an essential thing to consider and Makers of Barcelona coworking offers unique locations surrounded by historic buildings in the heart of Barcelona.
Work and lifestyle are not opposites: more than ever we are aware of the importance of balancing (or even merging) the two. The key is to look for all those small things that make your day better. And when choosing a coworking space as part of your routine, facilities are not the only thing to consider, we also tend to look at the accessibility and nearby shops, activities, restaurants and buildings.
So this time, we take you through the narrow, mysterious streets of the Gothic Quarter, the neighbourhood where MOB Caterina is based. How cool is it to have a lunch break in a historic place, and to be able to explore the most amazing buildings, all within walking distance of where you run your business? Read on to find out what's around MOB with us!
1. Mercat de Santa Caterina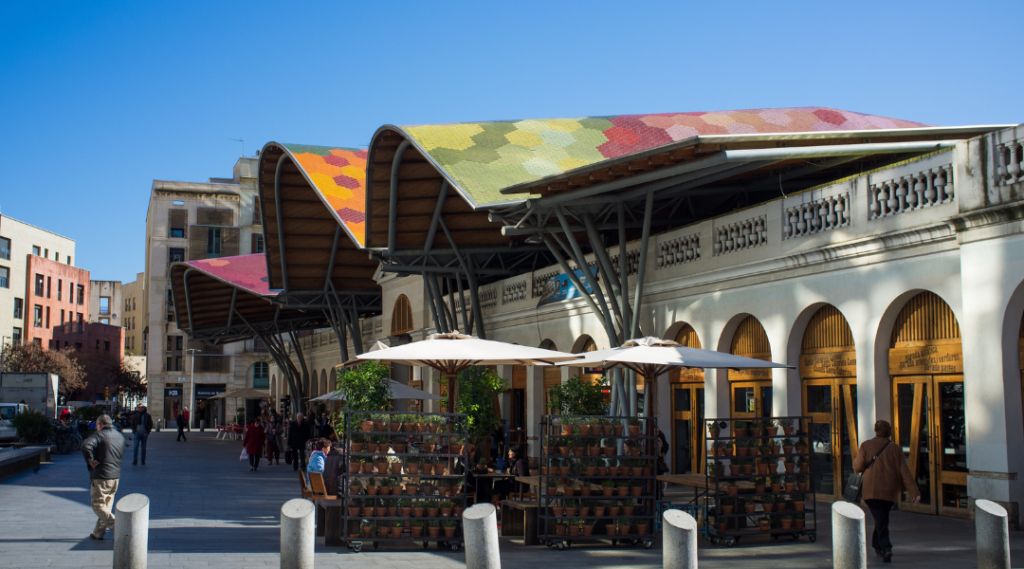 Let's start with the famous Santa Caterina Market: simply because it is located just across MOB Caterina (and the coworking was actually named after it!) This traditional market, the second largest in Barcelona after 'La Boquería', opened its doors in 1845, but in the early 2000s it was renovated by the famous architect Enric Miralles and his wife Benedetta Tagliabue, who came up with this iconic and colourful roof.
It's the perfect place to go for some fresh fruits, cheese, ham, and other fresh products, as well as grabbing a 'bocadillo' or croquetas for lunch. Delicious, local Spanish food steps from your office, who doesn't dream of that?
2. Cathedral of the Holy Cross and Saint Eulalia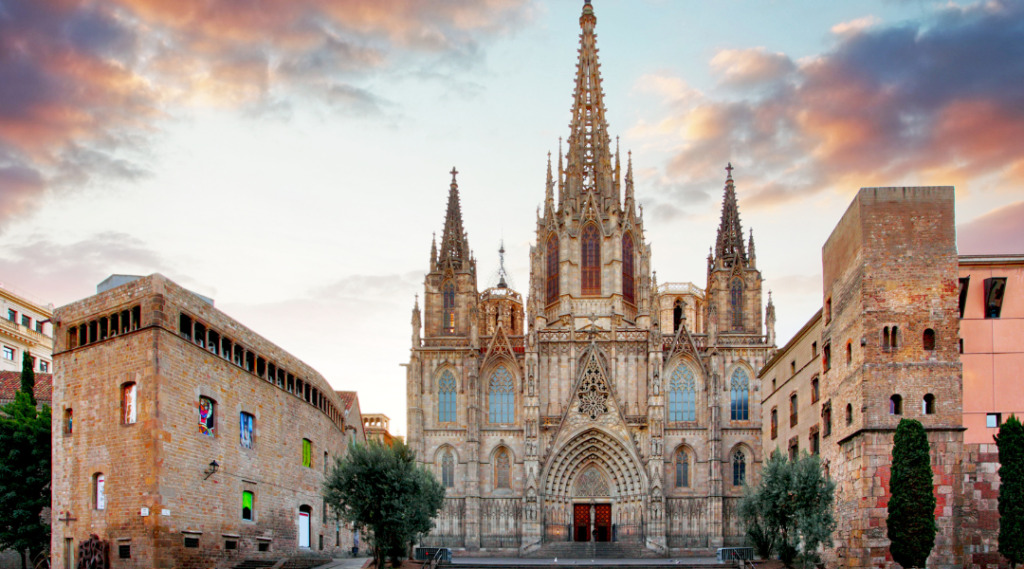 Better known as the "Cathedral of Barcelona", this impressive building is just 300 metres from MOB Caterina and we promise it will take your breath away. The cathedral was built between the 13th and 15th centuries – construction began in 1298 and it was not until 1448 that it was completed. The neo-gothic façade was added in the 19th century thanks to the Barcelona industrialist Miguel Girona i Agrafel and was inspired by the initial project.
One tip is to go around the church to Carrer de Sant Sever, where if you're lucky, you'll find a musician playing – there's something about that street that makes the acoustics sound like you're at the opera!
3. Sant Felip Neri Square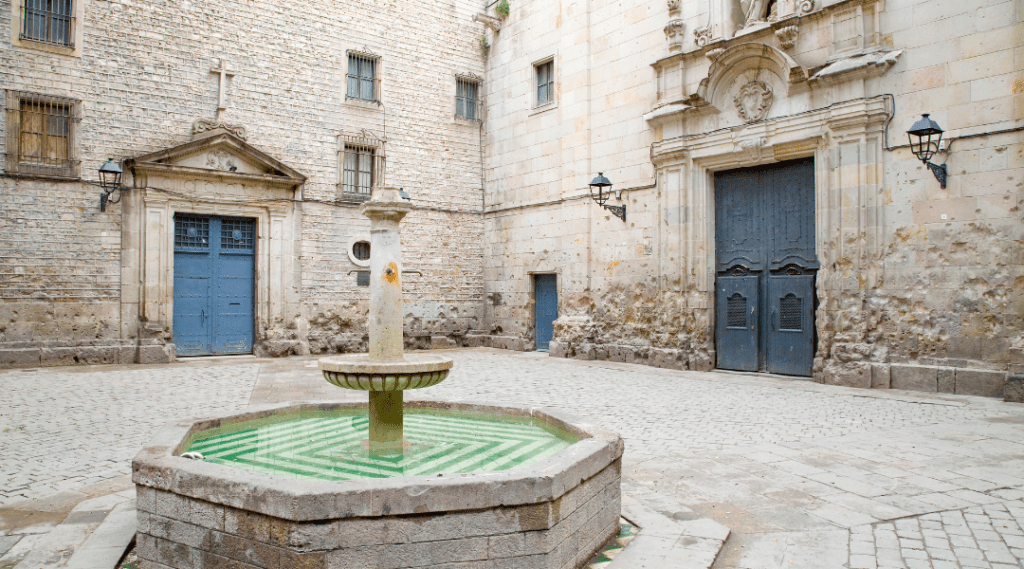 You can find this quiet little square just a few metres from Barcelona Cathedral. Although it has a dark history, it maintains a quiet energy, perfect for a break after the hustle and bustle of visiting the cathedral. This particular place was bombed during the Spanish Civil War and many people were killed. The houses surrounding the square were also completely destroyed and you can still see the bomb holes in the walls.
The square was rebuilt and today houses a school, a church and a beautiful octagonal fountain. Did you know that the music video "My Immortal" by Evanescence was filmed there?
4. Catalan Music Palace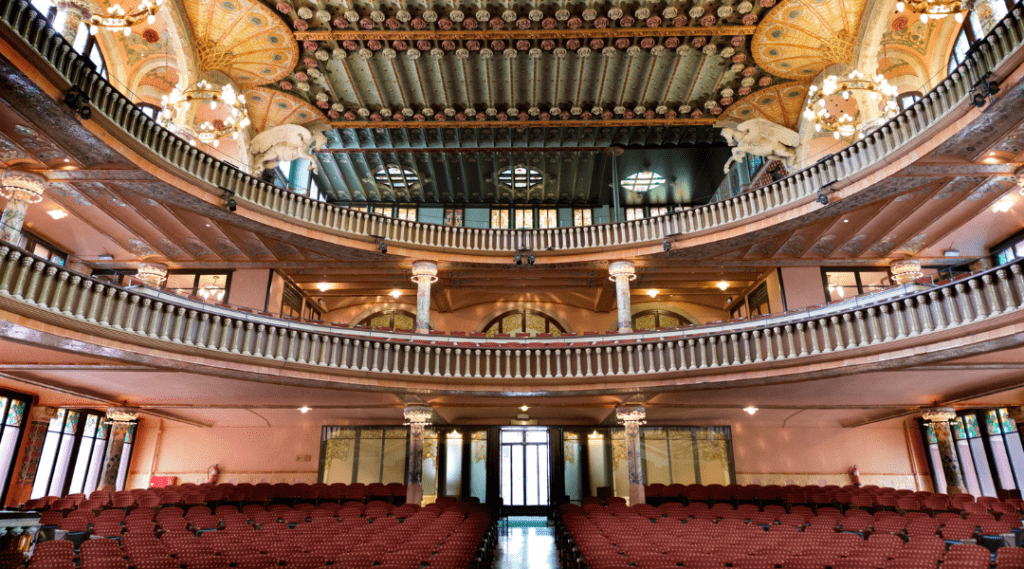 If you work from MOB Caterina, you have probably come across the Palau de la Música Catalana, an architectural pearl of the city, and the only concert hall declared a World Heritage Site by UNESCO. It was designed in the Catalan modernist style by the architect Lluís Domènech i Montaner.
If you want to see the interior (which is totally worth it), you can book a visit or buy tickets for a concert, they have an extensive programme with daily shows.
Now you know, the next time you want to take a break from work and explore the neighbourhood, take note of these special places to get inspired and enjoy the best of the city of Barcelona.
If you would like to come for a free trial day at MOB Caterina, hit this link! 🙂